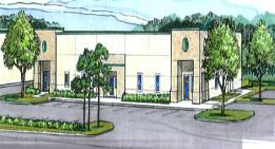 Privately owned and headquartered in Largo Florida, Mosk Development Co. is a second-generation real estate development, construction and management firm. Today one of the area?s fastest growing real estate construction and development companies, Mosk Development Co. was founded in 1973 by Yale Mosk, a commercial builder/developer, and later joined by his son and current President Matthew Mosk.

Over the years, Mosk Development Co. has put major emphasis on the development and construction of office, warehouse, manufacturing and distribution facilities. Today, the company has evolved into the development, construction and management of flex warehouse and office space, research and development facilities, manufacturing and distribution facilities. Our Build-to-Suit services exceed the standards of the most demanding customers.

We are committed to the future of the area and its economic health and development. We will continue to meet the needs of corporate and industrial America with exceptional standards.

We are constantly acquiring new properties and re-developing existing sites to offer many unique options for our diverse clientele. Solutions include options for Heavy Industrial, Light Industrial, Marketing, Distribution, Manufacturing and Corporate Offices.
Our sites strategic locations in Mid-Pinellas give our customers convenient access to the greater Tampa Bay area and its surroundings. Mosk Development Co's properties are located in high-visibility areas with easy access to I-275, US Highway 19, Belcher Road and Ulmerton Road.

Mosk Development Co. is a creative and flexible group with great strength, stability and expertise. We have been building quality commercial and industrial facilities in the Tampa Bay area for over 25 years. With an in-house property management staff, we can fulfill all of your real estate needs. Please feel free to contact us with any inquiries about our company.

Take a look at our Client Projects page to see the diversity of projects undertaken and completed.